Destination weddings in Barbados offer an extensive selection of wedding venues, from white sand beaches to tropical gardens, beachfront villas to historical sites, rugged sea cliffs to caves with their underground waterfalls, and catamarans that sail the calm turquoise waters of the Caribbean Sea.
See Photos of Wedding Venues >
Weddings…beyond your imagination can arrange your big day at any of these wedding venues in Barbados, including old sugar mills, plantation houses, or even underwater in a submarine – you can say 'I Do' 130ft beneath the sea!
You've decided to tie the knot – but where do you think you'd like to exchange your wedding vows at your very own romantic Caribbean wedding?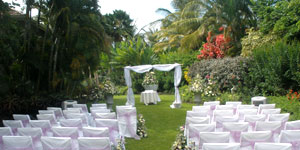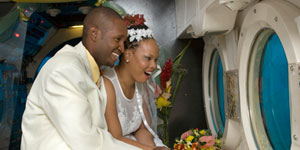 Garden Weddings in Barbados
Our eco-friendly couples will enjoy saying 'I do' in a lush tropical garden.
Exotic Caribbean Weddings
Have the turtles join you on your special day while relaxing onboard a private, luxury catamaran with your guests! Swim in an island bay. At the same time, your wedding lunch is prepared at sea, and refill those glasses for yet another toast to your new life together!
Explore Barbados in a jeep safari, and discover our diverse coastline and gullies while looking for indigenous monkeys. Visit an authentic plantation house, enjoying your celebration meal at the Planter's Table surrounded by relics of a bygone era, or tie the knot underground amidst romantically lit stalactites, stalagmites, and waterfalls, in the cool depths of our magnificent caves.
Surprise your guests with memories for a lifetime when you take your vows 130 feet under the sea! Be captivated by the vibrant marine life, colorful reefs, and wrecks, safe and comfortable in our submarine without even getting wet! The Green Eel may even grace your event with his presence.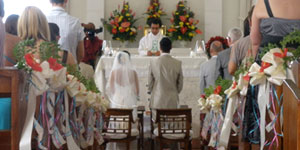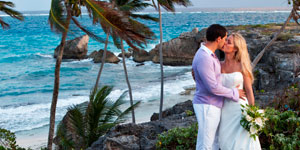 Historical Wedding Locations in Barbados
If history intrigues you, consider a promise of love made in a sugar mill, the shadow of a Light House, amidst cannons in an old Fort, or gently swaying Sugar Cane fields surrounding a Colonial plantation home, say the word, and let us make the arrangements.
Barbados Wedding Villas
Barbados is home to some of the most outstanding villas in the world, offering you the unique opportunity to host your special day at your very own home away from home!
This is a hot favorite with our couples, as we make all arrangements at a villa, we have hand-picked, just for you. So cast your cares away, and relax in the pool with a rum punch, while images of lush gardens, running to white sand beaches, are magically transformed before your eyes…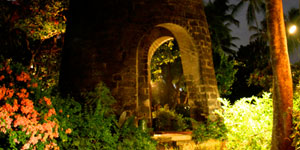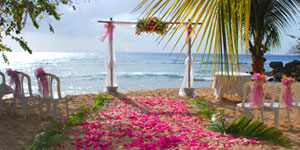 Oceanfront Terraces
Offer unobstructed ocean views, warm sea breezes, and fine sea spray while standing on solid ground minus the sand between your toes – some definitely say this is the best of all worlds, especially when considering locations for awesome Caribbean weddings!
Rugged Sea Cliffs
Promise forever on the brow of a natural sea cliff, with panoramic ocean views before you and wild grasses underfoot, island romance certainly abounds amidst nature's best. These picture-perfect backdrops top the list of some of our most popular Caribbean wedding sites.
Standing there saying 'I do' will confirm what you both already feel – on top of the world…
Traditional Church Weddings in Barbados
Savor the traditional, with a fairy tale wedding, in a beautiful Coral Stone Church with elegantly carved mahogany pews and stained glass windows, or have you considered a Jewish Caribbean wedding?
Barbados is proud to be the home of not only the oldest Jewish Synagogue in the western hemisphere today but one of the most beautiful ones as well! An important factor for our Jewish couples when researching Caribbean wedding locations.
Barbados Beach Weddings
And last, but definitely not least… beach weddings in Barbados are definitely the most popular with our couples. Imagine standing on one of our gorgeous white sand beaches with the one you love, while palm trees sway and gentle waves kiss the shore – need we say more?