As the 1st independent Wedding Planner on the island of Barbados, with thousands of weddings under our belt, we consider it an honour to be applauded by industry leaders who consider our dedication and service to be among the best available!
Our commitment to the Tourism and Destination Wedding Industries, as well as our Couples, has earned Weddings.. beyond your imagination!! international recognition, and numerous publication features in acclaimed Travel and Bridal magazines as well as the World's leading News Publications, some of which we share below.
February 1998 – Lisa presented Barbados as a Wedding Destination at The National Wedding Show in London, UK at the Olympia in Tottenham Court Road, at the invitation of the Barbados Tourism Authority.
March 1998 – Lisa presented Barbados as a Wedding destination in Guadeloupe's Expo Evasion Baie-Mahault-FWI
June 1998 – USA Today Leisure Travel section – Feature article on getting married in the Caribbean.
November 1998 – The Barbados Tourism Authority requested that Lisa present Barbados as a Wedding Destination in Toronto, Montreal and New Brunswick, Canada.
February 1999 – Contacted by the Oprah Winfrey Show for a special Valentine's episode.
August 1999 – Lisa traveled with the Barbados Tourism Authorities team to present Barbados as a Wedding destination at the Connecticut Trade Show, USA.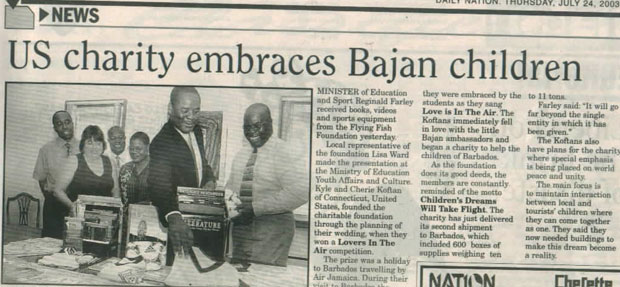 October 1999 – Wedding Planner of Choice for the Grand Prize Storybook Wedding… beyond your imagination "Love is in the Air" contest. US $50,000 Prize wedding hosted in Barbados by Brides Magazine in conjunction with Air Jamaica Vacations earned Lisa and Weddings… beyond your imagination!! the Best of Brides recognition and seal as a vendor of distinction within our industry.
February 2000 – Romance Classics of the USA released a Documented movie of the Brides Magazine Prize wedding and holiday experience in Barbados having filmed it in its entirety.
April 2001 – Kyle & Sherry Corkum were so inspired by the school children that Lisa had sing at their Brides Magazine prize wedding that they returned to the USA and formed a registered charity in Branford, CT – The Flying Fish Foundation, with Lisa as their partner in Barbados. The Foundation seeks to utilize the vast resources available in the United States and abroad to inspire and benefit the children of Barbados. Two shipments including books, games, clothing, sporting equipment, computers and even wheelchairs have arrived in Barbados to date, valued at a staggering US $300,000.00 and US $ 500,000.00 respectively. There have been numerous beneficiaries including St. Martin's Mangrove Primary School, The Ministry of Education, The Child Care Board, and the Blind Society.
May 2002 – USA Today Destinations & Diversions section – Feature Article.
Summer 2002 – Lisa consulted Liv Tyler of Armageddon and The Incredible Hulk fame on hosting her upcoming wedding in Barbados in March 2003.
March 2004 – Beach Houses Magazine – Feature Article.
May 2006 – Wedding Survival Guide – Feature invitation on Destination weddings presentation on national TV in the USA.
April 2007 – Barbados – Lisa was commissioned to pen the featured article on Destination Weddings in Barbados for the new Coffee Table Book published by the Government of Barbados and released to commemorate the hosting of the World Cup Cricket Tournament in Barbados.
Spring 2008 – Destination Weddings & Honeymoons Magazine – Real Brides, Real Advice section – Carly & Dustin's 7/7/07 wedding in Barbados, planned by Lisa was selected to be featured in this acclaimed publication.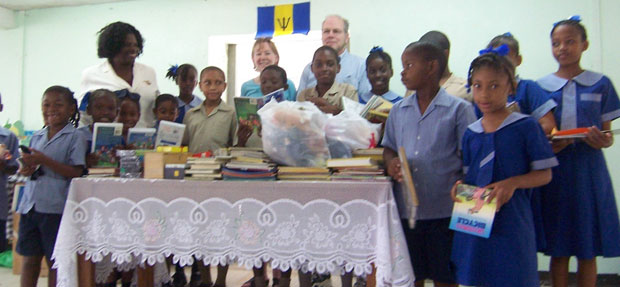 March 2008 – Susan Cooke, a teacher in Maryland, USA, requested Lisa's assistance with a donation to the Flying Fish Foundation, while visiting the island during the itinerary of a cruise ship holiday with husband Neil, as they were so impressed by the good works of the Foundation. St Martin's Mangrove Primary graciously accepted their generous gifts, and students will benefit for years to come.
February 2009 – Saks 5th Avenue, NewYork, NY, in partnership with The Barbados Tourism Authority and Modern Bride, hosted an exclusive reception for Brides considering a Destination Wedding, and Lisa was honoured to have been selected as the event's Expert Extraordinaire.
July 2017 – Luxury Travel Guide – honoured Barbados Weddings…beyond your imagination!! with the coveted Boutique Wedding Specialist of the Year – 2017 Award!

Thanks to the many beautiful, couples who choose to share their "I do" moments with us, as this would not have been possible without YOU!!

Kudos to our wonderful, vendor partners, who go above and beyond, along with our team at Barbados Weddings… beyond your imagination!!, to ensure that everyone of our couples has the best possible experience with us in Barbados!