The Romance of Barbados
People fall in love with this little gem of the Caribbean for many reasons. Barbados is a charismatic island with a unique charm and warmth, miles of powdery, white sandy beaches, year-round sunshine, tropical sea breezes, a rich and fascinating history, as well as local folks praised for being some of the friendliest in the world.
Imagine walking along a white sand beach, under brilliant blue Barbadian skies, as the sun kisses your cheeks and the Trade winds play with your hair or enjoying fine dining by candlelight at a restaurant bordered by the Caribbean Sea, followed by a dance or two under tropical starlit skies.
It is for this reason that romantics choose the beautiful island destination of Barbados for the most important moment in their relationship: their wedding day.
It has captivated couples with dreams of intimate simplicity to elaborate extravagance, including the most discerning clients, the rich and famous, as well as celebrities who desire all of the above, coupled with diplomacy and privacy.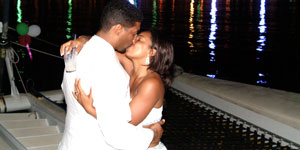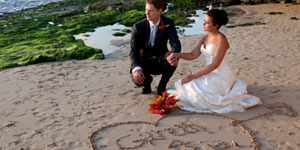 Couples who decide to get married here can embrace the island's relaxed vibe, and seize the opportunity to relax on the beach with a rum cocktail in hand, avoiding the anxiety and stress which can be overwhelming when planning a wedding. Be rejuvenated by the island's tranquility, which never ceases to inspire romance!
Barbados is an exceptionally easy island destination to get married in, there is no required waiting period or minimum length of stay, however, we assure you that once you are here you will fall in love all over again, this time with our island paradise.
Numerous celebrities have hosted lavish weddings with us, such as Tiger Woods who married Elin Norgeren in October 2008 in Barbados' very own, world-famous, Sandy Lane Hotel, which was hired exclusively for the enjoyment of guests, including Oprah Winfrey, Michael Jordan, and Bill Gates for a week. They tied the knot on the resident Green Monkey Golf Course, which Tiger officially opened.
Baseball legend Ernie Banks added another home ran to his legendary career when he married the former Liz Ellzey in Barbados, guests attending included award-winning country singer Charley Pride and business executive Stedman Graham, who both served as groomsmen. The all-time home run king, Hank Aaron, served as best man.
American business magnate, Mark Cuban, owner of the National Basketball Association's Dallas Mavericks, Landmark Theatres, Magnolia Pictures, and Chairman of the AXS TV (originally established in 2001 as HDNet) also said 'I do' in Barbados to Tiffany Stewart in September 2002.
Weddings…beyond your imagination consulted Royston Langdon and Liv Tyler who enjoyed a private wedding in Barbados, saying their 'I Dos' at their villa home away from home, by candlelight in 2003, prior to hosting a large celebration in New York.
Weddings beyond Your imagination were also the planners of choice for Westlife's Kian Egan and Jodi Albert who hosted an amazing private ceremony and lavish reception, at 2 private villas on the island's famous, the platinum, west cost in 2009, which was featured exclusively in OK! Magazine.
The History of the Romance
Tourism in Barbados is not a modern-day phenomenon, visitors came to the island for holidays as early as the 1600s.
Way back in 1751, even George Washington, many years before he became president, accompanied his brother on a six-week visit to Barbados, and The George Washington House may be visited even today!
In the old colonial days, wealthy British visitors would visit the west coast of the island and, Holetown, where the 1st settlers landed. These earliest tourists were wealthy folks, the crème de la crème, as they were the only ones who could afford the financial and time investment required to sail across the Atlantic Ocean to Barbados.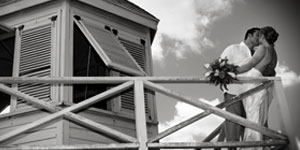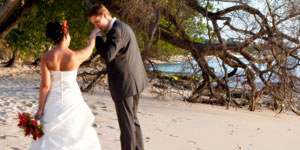 Having journeyed to the Caribbean, usually in the winter months, they tended to stay for extended periods of time, weeks, or even months, often donning their whites and playing the gentleman's game of 'Cricket' before joining the ladies on the sidelines for High Tea! Their return crossing of the Atlantic Ocean was often made with heavy hearts, as they voyaged home from this paradise playground.
In the 1950's Barbados became the destination of choice for the rich and fabulous.
The island was not only renowned for its lush tropical ambiance, pure atmosphere, and almost perfect, year-round weather, but a vibrant nightlife, as Barbados had its very own Copacabana Club which was visited regularly by Hollywood stars.
Today's celebrities have also embraced the magic of this unique paradise, even though there are no private beaches – Steven Spielberg, Liz Taylor, ABBA, Simone Cowell, Cilla Black, Cliff Richard, Joan Collins, Andrew Lloyd Weber, and Justin Bieber are but a few who visit the island regularly, immersing themselves in the island's simple lifestyle, where they are welcome to 'fire a grog' in the village rum shop with the locals, in peace and quiet, transformed from the hustle and bustle of their public life and fame. They often stay in their personally owned, luxury villas, that will literally take your breath away – oh how the other half live!
Barbados' secret side, with its rolling, coral stone hills and dramatic scenery is located across the island from the posh resorts of the west coast, and the well-developed south coast, boasting fascinating relics from the island's colonial past of sugar cane estates and the slave trade. Vast plantation homes testify to the wealth of the island's earliest settlers, and Museums document this fascinating history which mesmerizes visitors to return, again and again, hand in hand with the easy friendships which are cultivated during their vacation.